1. Absorption Type Solar Air Conditioner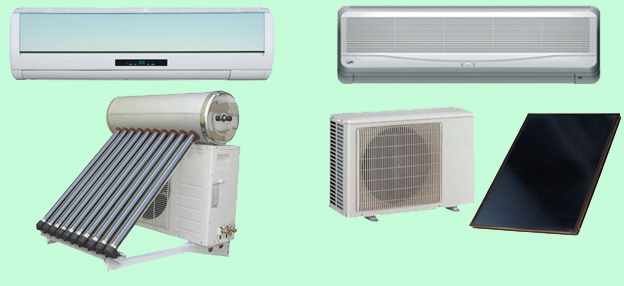 Apo solar air-conditioner uses solar energy and electricity energy as the auxiliary power,which reaches the effect of photoelectric complementation in accordance with principles of fluid dynamics and achieve the purposes of refrigeratio-n, heating,environmental protection and energy saving by combining traditional air-conditioner technology and adopting the combination of the absorption and compression and ecvironmentally-friendly and energy-efficient refrigerants.
The solar air conditioner can save over 30%-70% on the power consumption compared with standard air conditioner of the same size or same cooling capacity. Solar AC units use a storing energy box in the solar collector to help store solar heat energy,so it can operate with efficiency at night or on cloudy days.
Cooling capacity is from 12000BTU to 48000BTU (Both cooling and heating function are customized)
Split wall mounting type,Standing cabinet type,Hang ceiling type and Window type are available
2. Solar Hybrid Air Conditioner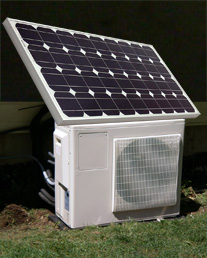 Apo Solar Hybrid Air Conditioner is usually the one consumes the most electricity among your home appliances and gadgets. If there is an air conditioner that is able to harness the solar energy, this should help save lots of your electricity bills.
Cooling capacity is from 12000BTU to 41000BTU
Split wall mounting type is available (Other types are customized)
3.100% Solar Powered air conditioner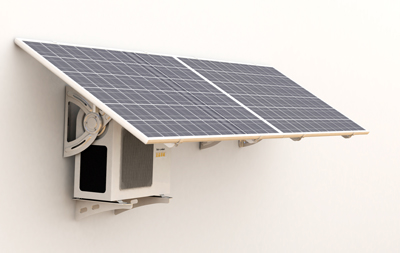 100% Solar Powered air conditioner using large amount of PV moudles is more expensive than normal one, the optimized way is attainable by connecting your normal A/C to solar power station (If you have),if you have not,the 100% solar A/C is customized.
4. 100% Solar Central Air Conditioning System

1, Facilitates 24-hour solar power driven air conditioning cooling,heating and domestic hot water with built-in therm energy storage
2, Provides the capability to use exhaust heat, natural gas, aprocess gas to operate or supplement heating and cooling.
3, Uses a novel concentrating trough collector design withenergy,efficiency of over 75%, four times the energy density conventional solar water heater collectors.
4, Uses MR717 as natural refrigerant without damaging environment.
5, Phase change thermal energy storage using 220°C pharansition molten salt material.
6, Return on investment of 3.5 years over conventional electric conditioners.(in 800W/m2 radiation, 3200 insolation hours/year)
7, Electricity saving is 417kW.h/m2 per year.irradiance: 800W/m2, the sun light hour per year: 3,200 hours)
8, Annual CO2 emission reduction is 370 kg/m2.irradiance: 800W/m2, the sun light hour per year: 3,200 hours)
Cooling / Heating Capacity : 5-200 Ton, customized configuration is welcomed